08 Mar

No Smoking Day 2021: Quitting Does Not Have To Be Stressful


What is No Smoking Day?

No smoking day has been designed to highlight and promote the importance of quitting smoking and helps to eradicate myths and preconceptions individuals may have about quitting. We take the opportunity to inform smokers that quitting can be less stressful than they dread and can ultimately improve their sense of wellbeing. Due to our current situation, we all have less control over our lives than we would like, but smokers can take some positive control on No Smoking Day. We can support smokers in looking forward to happier smoke-free future.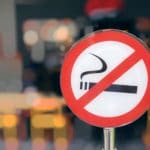 Mental Health and Quitting Smoking
Studies have shown, that quitting smoking enhances individual's mental health. Quitting can lessen anxiety, depression, improve mood and improve quality of life. Mental wellbeing is essential for our overall health and is seen to be as important as physical health. When we feel mentally well, we can work productively, enjoy our free time, and contribute actively to our communities. This page provides resources to help you keep mentally healthy and to reduce stress.
Quitting smoking improves mental health because it breaks a pattern of nicotine dependence. Nicotine gives a short-term fix for withdrawal symptoms, but these withdrawal symptoms return as soon as the nicotine wears off, which then affects individual's mental wellbeing. By quitting this cycle, mental wellbeing shows improvement after the withdrawal symptoms being to subside. Studies show that an individual's mental well-being after quitting improves significantly within 2-6 weeks (this differs for each individual).
Quitting smoking does not have to feel painful, stop smoking aids can really help
Did you know an individual is 4x more likely to quit with the help of a stop smoking service such as Kick-it (www.kick-it.org.uk). Getting support has been proven to sometimes reduce the symptoms one experiences when withdrawing from cigarettes. Nicotine Replacement Therapy has been shown to improve a smokers' chance of successfully quitting by reducing the degree to which smokers suffer withdrawal. These medications do not eliminate the symptoms of withdrawal, but behavioural support can help smokers to cope with those withdrawal symptoms that persist. Most smokers see their withdrawal symptoms peak after the first week and pass within 4 weeks.
Where do you find more?
If you wish for further information on 'No Smoking Day' or wish to learn more about the benefits of quitting, visit Todayistheday.com or check out ASH- Action on Smoking and Health. The NHS also have many useful links to ensure everyone has all the information they need. If you are thinking of quitting, visit Kick-it.com to register your interest today!